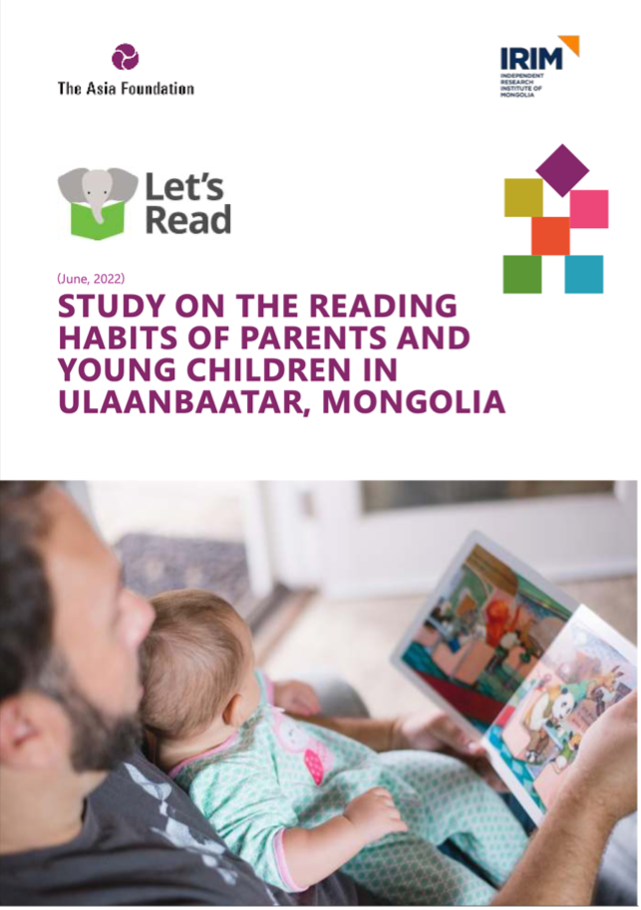 Study on the Reading Habits of Parents and Young Children in Ulaanbaatar, Mongolia
June 2022
This baseline study was conducted as part of Lorinet Foundation funded and The Asia Foundation implemented 'Let's Read Mongolia' program aimed at promoting reading as a critical tool for early childhood education.
The Asia Foundation worked with Independent Research Institute of Mongolia (IRIM) to collect data on the reading habits of parents with children aged 0-5, the accessibility and availability of books for children at home and kindergarten, and perceptions of the importance of reading books for the development of children.
Data gathered will provide important insights for further delivery of the 'Let's Read Mongolia' program, including design and planning, stakeholder engagement, and most importantly tracking the outcomes and impact of the project in the coming years
Youth Employability Landscape Study
Mongolia 2022
Young people are the future of tomorrow, and Mongolia stands to reap economic benefits from its young population. However, for thousands of Mongolian youth, their education-to-employment journey is challenging, and it differs significantly from that of their peers around the world.
Lorinet Foundation conducted this youth employability landscape study with the purpose of deepening our knowledge of employability issues that Mongolian youth face and developing a long-term country programme for the youth.
We believe that the findings of this study will be beneficial to all who seek to improve youth employability through short, mid, or long-term initiatives and solutions.